4 Smoothie Recipes That Will Delight | Smoothie Recipes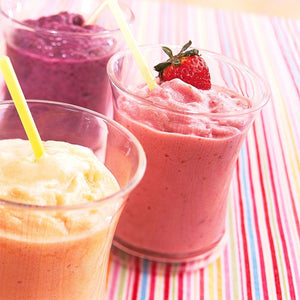 4 Smoothie Recipes That Will Delight | Smoothie Recipes
4 Smoothie Recipes That Will Leave Your Mouth Watering
There's nothing more satisfying than waking up to a blended glass of smoothie deliciousness. With one (perhaps rather loud) blending machine, you can create just about any kind of smoothie you want—they can be tweaked with different fruits, vegetables, juices, and milks to suit anyone's taste preferences. Here's a list of some delicious smoothie recipes that we think will be loved even by those with the most particular palettes.
Did you know that one kiwi has over 100% of your daily recommended dose of vitamin C? Well, some people did, so it ended up in this antioxidant-rich smoothie for some extra nutrition. You'll blend it with fresh orange juice, kiwifruit, frozen blueberries, frozen raspberries, frozen strawberries, and vanilla magic to create a beverage that's a gorgeous, deep berry red.
Green smoothies include leafy greens like spinach, kale, or celery. For this smoothie, you'll be using spinach—it provides a nice earthy flavor without overwhelming you. To make it, you'll need plant milk (vanilla almond or soy tastes best), spinach, a banana, peanut butter, 1 scoop of vanilla magic protein, and some ice cubes. Blend them together and enjoy!
"Superfood" isn't actually a food group, but rather a broad descriptor of foods that are very nutrient-dense and contain large doses of vitamins and minerals. One superfood that has people raving is the acai berry, known for its many health benefits, such as improving cognitive functions, lowering stress levels and inflammation, and promoting brain health. It's an amazing little berry, and it often comes in ready-to-blend smoothie packets that you can find at your local health food store. For this recipe you'll need one of those packets, almond milk, a banana, mangos, and another berry of your choice. Try vanilla magic in this one too! Throw it in the blender and take in the acai magic.
You probably didn't know this was a smoothie category, and it might not be—but that's not going to stop us from telling you about this mouth-watering chocolate creation. It's still made with wholesome ingredients, so you don't have to feel too guilty about enjoying it once in a while. You'll combine creamy peanut butter, frozen bananas, plant milk, vanilla coconut yogurt, cacao powder, 1 scoop of chocolate magic protein, and ice in a blender. This smoothie can be enjoyed during breakfast or as a light dessert!