Berry Harvest Quinoa Salad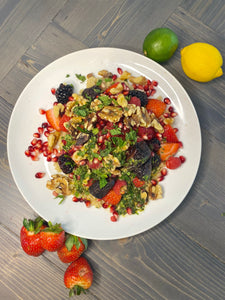 Berry Harvest Quinoa Salad
 15 min 
 Vanilla Magic, Planet Protein
This fall-inspired Berry Harvest Quinoa Salad has one super-secret ingredient: Vanilla Magic! 🍂 Combine it with fresh citrus and potent herbs for a delicious dressing you'll want to put on everything! Pour it over a bed of quinoa, berries and more for an extra-special meal.
INGREDIENTS 
Salad: 
Quinoa
Strawberries
Blackberries
Raspberries
Figs
Pomegranate
Pecans
Freshly chopped mint
Dressing:
1 tsp. orange zest
4 Tbsp. fresh orange juice
2 Tbsp. lemon juice
1 Tbsp. lime juice
1 tsp. chopped mint
1 tsp. chopped basil
1 Tbsp. Vanilla Magic Protein
DIRECTIONS
In a pot, make quinoa.
Wash and chop up fruits.
For the dressing: in a bowl, mix together all ingredients.
When ready, make quinoa the base of your salad, then add toppings and dressing!
For more recipes, nutrition tips and plant-based lifestyle hacks, check out our Ultimate Plant-Based Starter Kit (it's free!).