Blueberry Protein Doughnuts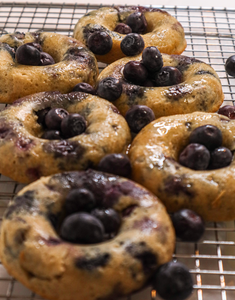 Blueberry Protein Doughnuts
 25 min 
 Vanilla Magic, Planet Protein
This treat will really blue you away😉🫐 It's gluten-free and has the antioxidant boost you needed for your day. These Blueberry Protein Doughnuts are the perfect mix of sweet and fruity. Feel free to spice them up with a protein glaze (Vanilla Magic + plant-based milk).
INGREDIENTS 
1/3 cup oat flour
3 Tbsp almond flour
2 Tbsp Vanilla Magic
1/2 tsp baking powder
3 flax eggs
2 tsp vanilla extract
3 Tbsp maple syrup
1/4 cup blueberries
DIRECTIONS
Preheat over to 350 degrees F.
In a bowl, combine all ingredients (except blueberries) and mix together
Once mixed, gently fold in blueberries.
Spray doughnut pan with nonstick coconut spray and pour in batter, filling 3/4 full.
Bake for 8-10 min.
Allow donuts to cool before taking them out of the pan.
Top with your choice of glaze and extra fruit!
For more recipes, nutrition tips and plant-based lifestyle hacks, check out our Ultimate Plant-Based Starter Kit (it's free!).