Cacao Maca Yogurt Protein Bowl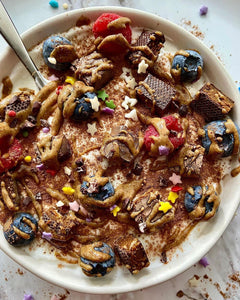 Cacao Maca Yogurt Protein Bowl
 5 min 
 Chocolate Magic, Planet Protein
Sometimes it's all about the toppings! This bowl has Chocolate Magic and berry delicious fruit😉 to make it your new all-time favorite. Make it for a quick breakfast or a mid-afternoon snack. There's no wrong time of the day to east this Cacao Maca Yogurt Protein Bowl.
INGREDIENTS 
0% Yogurt 
organic blueberries & raspberries
cacao powder
maca
Planet Protein Chocolate Magic
power butter 
favorite protein bar 
natural rainbow sprinkles 

DIRECTIONS
In a bowl stir together yogurt, cacao powder, maca, power butter, and Chocolate Magic.

Add toppings. 

Enjoy! 
For more recipes, nutrition tips and plant-based lifestyle hacks, check out our Ultimate Plant-Based Starter Kit (it's free!).