Caramel Pumpkin Cashew Smoothie Bowl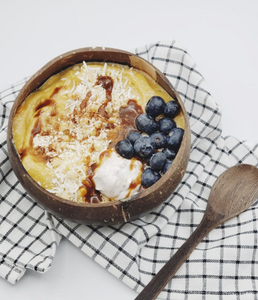 Caramel Pumpkin Cashew Smoothie Bowl
 10 min 
 Vanilla Magic, Planet Protein
This is a delicious smoothie bowl your body will thank you for! Made with its very own Magic Carmel Sauce, cashew milk, and pumpkin spice, there's no way you will regret it.😊
INGREDIENTS 
Smoothie Bowl Base
2-3 frozen bananas
½ cup from mangos
1 scoop Vanilla Magic
¼ tsp. turmeric
1 tsp. cinnamon
1 tsp. pumpkin spice
1-2 Tbsp. Magic Caramel Sauce
½ cup cashews
1 tsp. vanilla extract
⅓ cup pumpkin puree
¼ cashew milk
Magic Caramel Sauce
1 Almond milk or plant milk
¾ cup coconut sugar
1 Tbsp. Vanilla Magic
1 Tbsp. cornstarch
Pinch Himalayan salt
DIRECTIONS
For the Smoothie Bowl Base: In a high-speed blender, combine all ingredients until smooth. Pour into a bowl. 

For the Magic Caramel Sauce: In a small pot, add the almond milk, coconut sugar, Vanilla Magic & cornstarch. Heat over medium heat, stirring constantly.

Once mixture gets bubbly, lower the heat down to low, letting it simmer for 5 mins while stirring frequently. Add in Himalayan salt.

Remove from heat, cool down. Then pour over your smoothie bowl with desired toppings!