Carrot Cake Energy Balls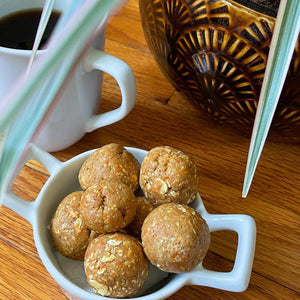 Carrot Cake Energy Balls
 15 min 
 Chocolate Magic, Planet Protein, Vanilla
So easy and packed with quality ingredients⚡️
INGREDIENTS 
1.5 cup oats
I serving @planet_protein vanilla magic
1/4 cup cashew butter
1/4 cup maple syrup
1/2 cup shredded carrots
1/4 tsp @originenaturals cinnamon
1/4 tsp nutmeg
DIRECTIONS
Add all ingredients to food processor.

Blend. (You may need to scrape down the sides several times to make sure the blade catches the mix.)

Roll into balls and store in fridge.
For more recipes, nutrition tips and plant-based lifestyle hacks, check out our Ultimate Plant-Based Starter Kit (it's free!).