CHOCOLATE CHERRY PROTEIN COOKIES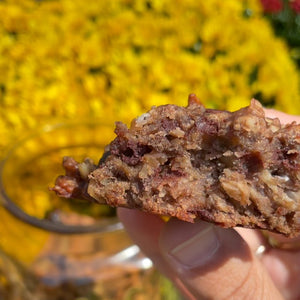 CHOCOLATE CHERRY PROTEIN COOKIES
 30 Minutes
 Vanilla Magic, Planet Protein
Are you craving a sweet treat but don't want to feel guilty after eating it? SAME! These super-simple cookies are very tasty, AND they pack in some nutrients and extra protein👍🏽 No complaining here! 
INGREDIENTS
3 over ripe bananas
3 handfuls of rolled oats (maybe around 2 cups-ish)
1/2 cup natural peanut butter
A hefty drizzle of maple syrup
1 large scoop of Planet Protein Vanilla Magic 
Splash of vanilla
Handful of dried cherries & chocolate chips
DIRECTIONS
In large bowl mash up bananas. Then add in peanut butter, maple syrup and vanilla.
Stir it all up while mixing in the oats & protein powder.
Fold in your chocolate chips and dried cherries.
Spoon onto a baking sheet. 
Bake at 350 degrees F for 20-25mins.