Chocolate Chip Magic Cookies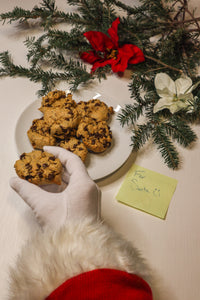 Chocolate Chip Magic Cookies
 25 min 
 Vanilla Magic, Planet Protein
Leave these Magic Cookies out for Santa this Christmas Eve!🎅🏼 He won't even notice these treats are healthy and packed with protein!😏They're magical in the sense that they're infused with our protein-packed Vanilla Magic superfood blend (hemp, coconut, and maca – oh my!).🍪 
INGREDIENTS 
2 Tbsp.
Flax meal
6 Tbsp. water
1⁄2 cup plant-based butter
1⁄2 cup Vanilla Magic
1/3 cup Miss Jones SmartSugar
1 cup whole wheat flour
1⁄2 cup oats
1⁄2 cup mini semi-sweet chocolate chips
1 Tbsp. Maple syrup
1 tsp. Cinnamon
1 tsp. Baking Powder
1⁄2 tsp. Himalayan sea salt
Coconut oil, to coat pan
DIRECTIONS
Preheat oven to 375 degrees F. In small bowl, prepare flax egg by coming flax meal with water. Set aside for five minutes or until it reaches a gelatinous consistency.
In a large mixing bowl, combine the remaining ingredients. Use fork to mash up butter if it needs a little help. Pour in flax egg and mix until fully combined.
Lightly coat baking sheet with coconut oil. Spoon globs of batter onto baking sheet (whatever size you like) – but not too close! Bake for 12-15 minutes.
Remove from oven and let cool for 5 minutes (or longer if you're patient!). Use spatula to transfer cookies to serving dish.
For more recipes, nutrition tips and plant-based lifestyle hacks, check out our Ultimate Plant-Based Starter Kit (it's free!).