Chocolate-Coconut Energy Balls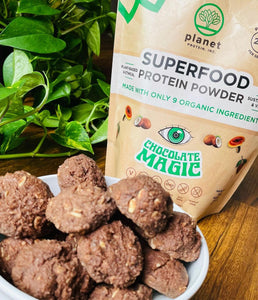 Chocolate-Coconut Energy Balls
 10 Minutes
 Chocolate Magic, Planet Protein
Looking for a tasty afternoon pick-me-up? These nutritious, chocolatey bites will provide the energy boost you need. Enjoy them on the go, or pair them with a cup of tea if you have time for a midday break. They're made for you by @dre.kathleeen, a clean-eating enthusiast who's obsessed with fitness, sustainable living and thrifting! Dre admits that "these bad boys are addicting," so better double up the recipe for another batch!
Ingredients: 
1/3 cup oats

1½ scoops Chocolate Magic

1/2 tsp. baking powder

2 ripe bananas

1/4 cup almond milk

1 Tbsp. chia seeds

2½ Tbsp. water

1 Tbsp. maple syrup

2 Tbsp. melted coconut oil
Directions
1. Preheat oven to 350 degrees F. In bowl, combine oats, Chocolate Magic, coconut flour and baking powder. Set aside.
2. In small bowl, combine chia seeds with water and let sit for 5 minutes.
3. In another bowl, mash bananas. Stir in almond milk and maple syrup. Once chia egg becomes gelatinous, spoon it into banana mixture.
4. Combine wet and dry ingredients. Mix in melted coconut oil.
5. Roll into tablespoon-size balls, arrange on baking sheet and bake for 10-12 minutes. Note: These will appear delicate at first. Let cool before removing from pan. Enjoy immediately or refrigerate until ready to serve.