Chocolate-Hazelnut Protein Zoats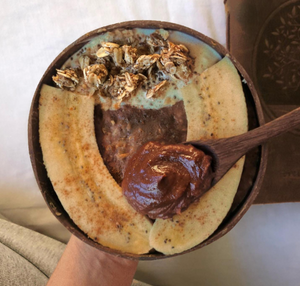 Chocolate-Hazelnut Protein Zoats
 5 min 
 Chocolate Magic, Planet Protein
These Chocolate-Hazelnut Protein Zoats (zucchini oats) are on fire🔥 And shhhh🤫 you can't even taste the veggie that was snuck in.😏 Perfect breakfast or snack for those of you who need a little more greens and protein in your diet!
INGREDIENTS 
1/2 cup oats
1/2 cup shredded zucchini
1 Scoop Chocolate Magic
Pinch Kosher salt
2 Tbsp maple syrup
1 + 1/2 cup water
1 cup Almond milk
1/2 tsp Vanilla extract
DIRECTIONS
In a resealable bowl, mix together ingredients!
Leave in the fridge for 4 hours or let it sit overnight.
Top with homemade maple peanut butter granola, hazelnut almond butter & bananas!
For more recipes, nutrition tips and plant-based lifestyle hacks, check out our Ultimate Plant-Based Starter Kit (it's free!).