Chocolate Magic Pancakes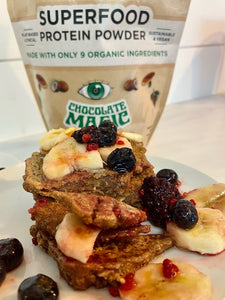 Chocolate Magic Pancakes
 15 min 
 Chocolate Magic, Planet Protein
When you wake up to pancakes in the morning... Oh, oh oh, its Magic... you know🎶 Especially when the pancakes are made with Chocolate Magic! This is your sign to make some. Top with your favorite fruit and maple syrup! 
INGREDIENTS 
1/2 cup whole wheat flour
1 scoop Chocolate Magic
1 tsp chia seeds
1/4 cup oats
1 tsp vanilla
1/2 Tbsp baking powder
1/2 tsp cinnamon
Sprinkle of coconut sugar
1/2 - 1 cup of Water (till reaches the consistency of choice)
DIRECTIONS
In a bowl, mix together all ingredients.
In a pan, cook on low heat.
Flip when sides turn golden brown.
Top with fruit of choice & maple syrup! YUM!
For more recipes, nutrition tips and plant-based lifestyle hacks, check out our Ultimate Plant-Based Starter Kit (it's free!).