Chocolate PB Magic Bars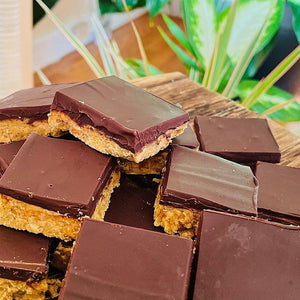 Chocolate PB Magic Bars
 2 hours
 Vanilla Magic, Planet Protein
They are called show stopper treats for a reason! Made with only 6 ingredients, they are too easy not to make. They quite literally melt in your mouth.🤤
INGREDIENTS 
1 cup peanut butter
1/4 cup maple syrup
1/4 cup coconut flour
1 serving Vanilla Magic
3/4 cup vegan dark chocolate
1 Tbsp. almond milk
DIRECTIONS
In a bowl, combine your peanut butter, maple syrup, and almond milk. Give it a good stir. 
Next, add your coconut flour, Vanilla Magic. Stir until well combined. 
Grease your pan and pack mixture at the bottom of it. 
Melt your dark chocolate.
Pour over peanut butter layer and spread evenly. 
Store in the fridge for 2 hours. Cut and enjoy! 
For more recipes, nutrition tips and plant-based lifestyle hacks, check out our Ultimate Plant-Based Starter Kit (it's free!).