Chocolate Protein Muffins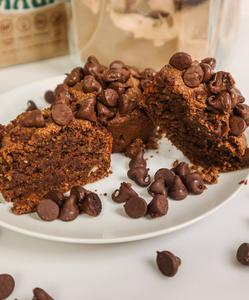 Chocolate Protein Muffins
 1 hour 
 Chocolate Magic, Planet Protein
If you're looking for something healthy, but you are craving a chocolate dessert, we have just the thing for you! These chocolate protein muffins are a great snack for on the go, and they make for a delicious healthy dessert! To make them even better, there are no refined sugars used, and it's gluten-free!
INGREDIENTS 
1 tablespoon of flaxseed, ground
3 Tbsp. of water
1 cup of plant-based milk
1 tsp. of apple cider vinegar
2 cups of oat flour
1/2 cup of almond flour
1/2 cup of Chocolate Magic
1/4 cup of cocoa powder
1 tsp. of baking powder
1/2 tsp. of salt
1 ripe banana, mashed
1/2 cup of maple syrup
1/2 cup of coconut oil, melted
1 tsp. of vanilla extract
3/4 cups dairy-free chocolate chips
DIRECTIONS
Preheat the oven to 350 degrees F.
In a small bowl, mix flaxseed with water. Set aside for 5 minutes, this creates a flax egg.
In a large cup, stir together milk and apple cider vinegar. Set aside for 5 minutes, this creates the vegan buttermilk.
In a large bowl, whisk together all the dry ingredients.
In a separate medium bowl, mix together the wet ingredients except for the flax egg. 
Then pour the wet ingredients bowl into the dry ingredients bowl, add the flax egg, and gently mix the batter until combined.
Line the muffin pan with liners or use a nonstick muffin pan. Pour about 1/3 cup of batter into each mold. Sprinkle chocolate chips on top and bake for 35-40 minutes. 
Let the muffins cool for 10 minutes in the pan and enjoy!
For more recipes, nutrition tips and plant-based lifestyle hacks, check out our Ultimate Plant-Based Starter Kit (it's free!).