Chocolate Protein Oats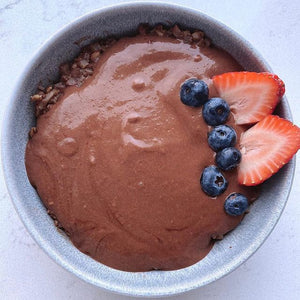 Chocolate Protein Oats
 10 min 
 Chocolate Magic, Planet Protein
Why wait to satisfy that sweet tooth till dessert, when you can fulfill it for breakfast? This oat bowl is topped with a homemade chocolate yogurt topping, and let's just say it will melt you away!🤤
INGREDIENTS 
Oatmeal:
1 cup of water
1/2 cup of oats
1/2 cup riced cauliflower
2 Tbsp. monk fruit
1 Tbsp. cocoa powder
2 Tbsp. Chocolate Magic
Chocolate yogurt topping:
1 oz. of dairy-free yogurt
1 Tbsp. cocoa powder
1 Tbsp. powdered monk fruit extract
DIRECTIONS
To make oats: in a stovetop pan, mix water, oats, cauliflower, and monk fruit. Bring to a boil. 
Once boiling, bring down to a simmer and mix in cocoa powder and protein.
To make yogurt topping: in a bowl, combine all ingredients. 
Then pour over protein oats. 
YUM!
For more recipes, nutrition tips and plant-based lifestyle hacks, check out our Ultimate Plant-Based Starter Kit (it's free!).