Cinnamon Spice Nut Butter Blast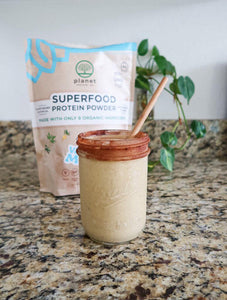 Cinnamon Spice Nut Butter Blast
 10 Minutes
 Vanilla Magic, Planet Protein
It's the creamiest. It's the dreamiest. It's a blast in a glass! When it comes to making smoothies, it's all about keeping things simple. You'll need just a few ingredients to create this sweet, protein-packed breakfast beverage. The best part is that this recipe is infused with an extra dose of cinnamon for added nutritional benefits. This sweet spice is a great source of manganese, fiber, iron and calcium. It also contains catechins, which are powerful antioxidants that may help promote overall digestive and colon health.
It's no wonder why cinnamon is a key ingredient in our Vanilla Magic blend. Ready to blend? Let's blast off!
INGREDIENTS
2 ripe frozen bananas

1 ripe banana, room temperature

1 scoop Vanilla Magic

½ tsp. cinnamon

¼ tsp. turmeric

Dash nutmeg

¾ cup ice-cold water

Small handful ice cubes
DIRECTIONS
1. In high-speed blender, combine all ingredients until smooth.
2. Pour into cinnamon-rimmed glass and serve.