Cinnamon Vanilla Magic Smoothie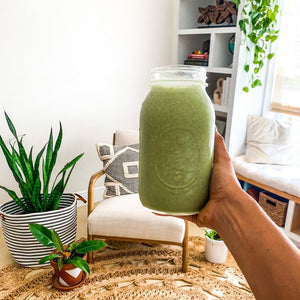 Cinnamon Vanilla Magic Smoothie
 5 min 
 Vanilla Magic, Planet Protein
It may be green, but it's loaded with cozy fall flavors (including nutmeg, and of course, cinnamon and vanilla) that will warm your soul from the inside out. This recipe makes about 32 oz. of creamy goodness. 
INGREDIENTS 
2-3 frozen bananas
One scoop Vanilla Magic
Large kale leaf (optional)
1⁄2 tsp. spirulina
1⁄2 tsp. cinnamon
1⁄4 tsp. turmeric
1⁄2 pitted Medjool date
Dash nutmeg
3⁄4 cup ice-cold water (or more depending on desired consistency)
DIRECTIONS
In a high-speed blender, combine all ingredients until smooth. Pour into glass and enjoy immediately.  
For more recipes, nutrition tips and plant-based lifestyle hacks, check out our Ultimate Plant-Based Starter Kit (it's free!).