Cookie Dough Nice Cream Bowl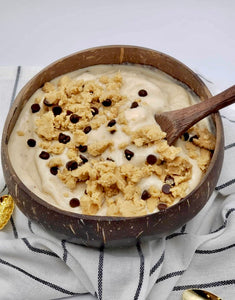 Cookie Dough Nice Cream Bowl
 5 min 
 Vanilla Magic, Planet Protein
This year Santa doesn't want cookies and milk for Christmas... he wants a Cookie Dough Nice Cream Bowl! With magic cookie dough bites to top it off, there is no way he would be disappointed. Neither will you.😉
INGREDIENTS 
Cookie Nice Cream Bowl
2-3 frozen bananas
3 dates, pitted
1 scoop peanut butter or cashew butter
¼ cups plant mylk
2-4 Magic Cookie Dough Bites
Magic Cookie Dough Bites
½ cup almond flour
½ cup Vanilla Magic
3 Tbsp. coconut oil, melted
2 tsp. vanilla extract
3 Tbsp. agave or maple syrup
Pinch Himalayan salt
2 Tbsp. Coconut flour
⅓ cup dark chocolate chips
DIRECTIONS
For Cookie Dough Bites: In a bowl, mix all ingredients (except for chocolate chips) until dough-like consistency forms.
Fold in chocolate chip.
Roll into bite-size balls.
Transfer to a jar or keep in a glass bowl and refrigerate for 1-2 hours for best results.
For Nice Cream Base: In a high-speed blender, combine all ingredients until smooth. Pour into a bowl.
Crumble Cookie Dough Bites on top of nice cream and enjoy!
For more recipes, nutrition tips and plant-based lifestyle hacks, check out our Ultimate Plant-Based Starter Kit (it's free!).