HEALTHY SWEET POTATO CASSEROLE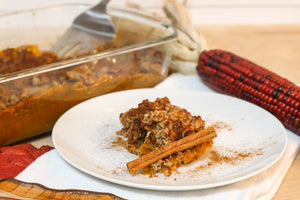 HEALTHY SWEET POTATO CASSEROLE
 1 hour  
 Vanilla Magic, Planet Protein
The perfect side dish, made HEALTHY! 🥰 The Sweet Potato Casserole is a tradition for many on Thanksgiving... but it doesn't have to be filled with sugar and marshmallows to taste good! Try this clean version instead.


INGREDIENTS 
Sweet Potato Filling 
3 lb. of sweet potato
2 Tbsp. coconut sugar
1/4 tsp. salt 
1/2 tsp. cinnamon 
1/4 tsp. nutmeg
1 Tbsp. Vanilla Magic 
Oat Pecan Crumble
3/4 cup pecans
3/4 cup rolled oats, 1/2 cup blended into oat flour
3 Tbsp. maple syrup 
1/2 tsp. cinnamon 
1/2 tsp. salt 
2 Tbsp. coconut oil 
DIRECTIONS
Preheat the oven to 400 degrees F.
Cut sweet potato in half lengthwise and place cut-side down on a baking tray. Bake for 35-45 minutes until very tender.
Let them cool for 6-7 minutes on the tray, then remove the skins. The skins should peel off very quickly.
While the sweet potatoes are baking, prepare the oat pecan topping—Blend 1/2 cup of the oats into fine oat flour. Add the rest of the topping ingredients and pulse to combine into a crumbly mixture.
Transfer the cooked sweet potato to a bowl. Mash and stir in the rest of the filling ingredients.
Spread the sweet potato into a baking dish.
Sprinkle the oat pecan topping evenly overtop.
Bake for 20-25 minutes until golden brown.
Let cool for 5-10 minutes before serving.
For more recipes, nutrition tips and plant-based lifestyle hacks, check out our Ultimate Plant-Based Starter Kit (it's free!).