Healthy Twix Bars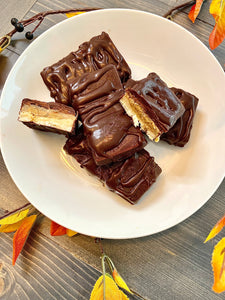 Healthy Twix Bars
 30 min 
 Vanilla Magic, Planet Protein
Don't go to the store and buy a whole bunch of candy! You can satisfy that sweet tooth with these Healthy Twix Bars. Trust us; you'll want to try these bad boys. 🤤 Pop them in the fridge to eat or share them later. 
INGREDIENTS 
For the shortbread 
1/3 Vanilla Magic
1/3 cup coconut flour
3 Tbsp. maple syrup
1/3 cup coconut oil
For the caramel layer 
1/3 cup cashew butter melted
1/4 cup coconut oil melted
1/3 cup maple syrup
1 tsp. vanilla
For the chocolate coating 
1 1/4 cup organic chocolate
1 1/2 tbsp. coconut oil melted


DIRECTIONS
Preheat oven to 350F. Grease and line a bread loaf pan.
In a bowl, add coconut flour, maple syrup, and coconut oil. Mix to a dough like consistency.
Press dough evenly into the prepared bread loaf pan. Bake for about 10 minutes until edges begin to brown. Take out of the oven and let cool.
In another bowl, combine the melted cashew butter, melted coconut oil, maple syrup, and vanilla to make caramel filling. Pour the caramel filling over the crust, and then let it cool in the freezer.
For the chocolate topping, melt the chocolate and coconut oil in a bowl in the microwave or over the stove. Once the caramel layer is set, pour about half of the chocolate layer over the caramel layer. Put back in freezer to harden.
Once set, slice into 8 bars. Using the remainder of the chocolate coating, dip the bars into the chocolate sauce to fully coat the bars. Transfer onto a cookie cooling rack.
Enjoy and store in the fridge!
For more recipes, nutrition tips and plant-based lifestyle hacks, check out our Ultimate Plant-Based Starter Kit (it's free!).