Key Lime Magic Smoothie Bowl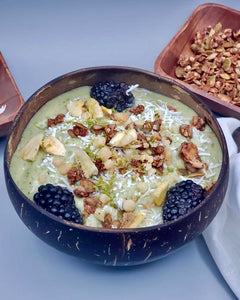 Key Lime Magic Smoothie Bowl
 10 min 
 Vanilla Magic, Planet Protein
It's sweet and just a little bit sour! It's the BEST of both worlds. This Key Lime Magic Smoothie Bowl is creamy and smooth. The sourness of the freshly squeezed lime juice compliments the sweetness of Vanilla Magic to a T! To get the most out of your limes, save them after you squeeze them and use the scraps to make zest for your toppings! YUM! 
INGREDIENTS 
2-3 frozen bananas
⅓ cup flaxseed mylk or plant mylk of choice
¼ cup freshly squeezed key lime juice
½ cup coconut cream
1 tsp lime extract
1 tsp vanilla extract
2-3 dates
1 scoop Vanilla Magic
2 dino kale leaves
DIRECTIONS
In blender add all ingredients and blend. 

Pour into your favorite bowl. 

Add in desired toppings
For more recipes, nutrition tips and plant-based lifestyle hacks, check out our Ultimate Plant-Based Starter Kit (it's free!).