Magic Green Smoothie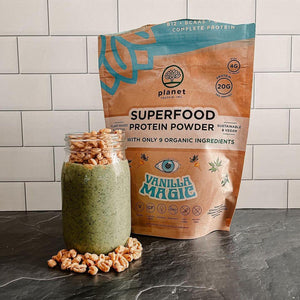 Magic Green Smoothie
 20 Minutes
Vanilla Magic, Smoothie, Breakfast
I love Planet Protein because you can literally smell the magic when you open each bag, but first and foremost, I love this company because of their transparency of what's in their products and eco-conscious business practices. Their protein powders are organic, vegan, gluten-free, non-GMO, soy-free and peanut-free. No artificial sweeteners, gums or dyes!
Here's how to make this simple, nutritious smoothie:
Ingredients
1 banana

1/3 cup apple juice

1/3 cup frozen pineapple chunks

3+ Tbsp. Vanilla Magic

Garnish: cereal or granola
Directions
1. In blender combine all ingredients, except for garnish, until smooth.
2. Pour into glass and top with cereal or granola if desired.
For recipes, nutrition tips and vegan lifestyle hacks, check out our Ultimate Plant-Based Starter Kit (it's free!)