Magic Mini Pumpkin Pie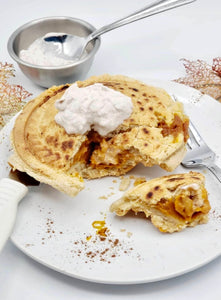 Magic Mini Pumpkin Pie
  45 min
 Vanilla Magic, Planet Protein
Keep your eyes on the pie.🥧 This recipe will have you going back for seconds every time! And that's ok because it's gluten-free, plant-based, and packed with protein. No regrets here! 
INGREDIENTS 
Crust
1 cup almond flour
½ cup tapioca flour
1-2 scoops of Vanilla Magic
4-6 Tbsp almond milk
4-6 Tbsp coconut oil, melted
1 Tbsp. ghee, optional plus extra for coating the pie top later

Filling
1 can pure pumpkin
1- 1 ½ scoops Vanilla Magic
¾ cup coconut milk, Can
½ cup coconut sugar
¼ cup cornstarch
¼ cup maple syrup
1 tsp. vanilla extract
2 tsp. pumpkin pie spice
½ tsp. cinnamon
Pinch of Himalayan salt
DIRECTIONS
Preheat oven to 350 degrees F.
For your crust: in a mixing bowl, gather all your ingredients and combine until you reach a dough-like consistency.
Flatten your dough by adding in tapioca flour to help spread it out. Use a crust cutter to shape a pie base (4.75") and pie top (4.1").
For your filling: in a blender, gather all your ingredients and blend until you reach a smooth consistency.
Then proceed to add in ⅓ cup of your pumpkin pie filling. Adding on your pie top and lightly coat it with vegan ghee. 
Let it bake for 20 minutes and then cool.
Add desired pie toppings & Enjoy!