Magic Peppermint Mochi Pancakes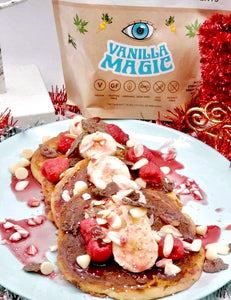 Magic Peppermint Mochi Pancakes
  15 min
 Vanilla Magic, Planet Protein
Making pancakes is one thing... but having Mochi pancakes is a whole other level! So level up in your kitchen with this holiday recipe! It's something the entire family will enjoy!😊
INGREDIENTS 
Pancakes
¾ cup sweet rice flour, Mochiko
¼ cup Vanilla Magic
1 Tbsp. crushed peppermint candies
1 ½ tsp. Baking powder
¼ tsp. baking soda
Pinch of Himalayan salt
¾ cup almond mylk or plant mylk of choice.
1 Tbsp. agave
1 Tbsp. Olive oil
¼ tsp. Peppermint extract
¼ tsp. Vanilla extract
½ tsp. apple cider vinegar

Peppermint Maple Syrup 
½ cup maple syrup
1 tsp. Beet powder for color
¼ tsp. Peppermint extract
½ tsp. Vanilla Magic
DIRECTIONS
In a mixing bowl, whisk all your dry ingredients together. Separately whisk together your wet ingredients. Then pour the wet ingredients into your dry mix. Mix thoroughly until you reach a whipping and smooth consistency.
Meanwhile, lightly grease a skillet, griddle, or comal over medium heat.
Use about ¼ cup of batter for each pancake. Cook for 3-4mins each side, flipping once until it's nice and golden.
Top with any desired toppings and Enjoy!