Magic Rice Pudding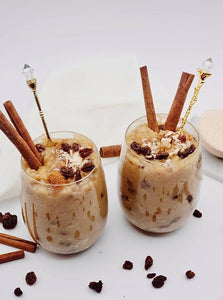 Magic Rice Pudding
 30 min 
 Vanilla Magic, Planet Protein
Tired of having the same snacks every day? Well, this one is for you! It's time to switch things up with this Magic Rice Pudding. It just might be the perfect holiday pick-me-up snack ever, and it's packed with protein! 
INGREDIENTS 
3 cups plant milk of choice
2 scoops Vanilla Magic
1 small can of coconut condensed milk
1 cup Calrose rice
½ cup raisins
¼ cup maple syrup
1 tsp. vanilla extract
1 tsp. orange zest
1 tsp. Cinnamon
½ tsp. nutmeg
2 Tbsp. plant butter
Pinch of Himalayan salt
DIRECTIONS
In a glass carafe, pour three cups of plant milk with 2 scoops of Vanilla Magic, shake until it's nice and smooth. (This now becomes protein milk)
With a hand grater, zest a fresh orange peel.
In a pot, place your now protein milk, coconut condensed milk, rice, raisins, maple syrup, vanilla extract, orange zest, cinnamon, and nutmeg. Stir altogether on medium heat.
Bring the liquid to a boil, lower the heat, and allow the mixture to cook at a low simmer, and cover. Stir occasionally.
Time your mixture to cook for 20 mins or until you reach your desired thickness.
Once done, add in your plant butter and Himalayan salt. Mix together.
Let pudding cool. It can be chilled or served warm. Enjoy!