Mango Rhubarb Muffins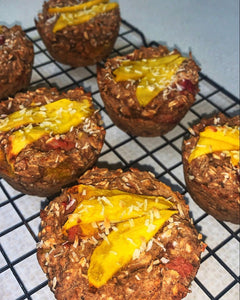 Mango Rhubarb Muffins
 40 min 
 Vanilla Magic, Planet Protein
Use your fresh or extra ripe mangos for this mouthwatering recipe. Made with oats, mango, and rhubarb, it's a tasty explosion in your mouth! And to make it even better, there's Vanilla Magic in it, of course. The recipe calls for an egg, but you can substitute it for a flax egg or vegan substitute of your choice!
INGREDIENTS 
4 stalks Rhubarb (chopped)
1 mango (peeled and sliced)
3 Tbsp stevia powder 
1 tsp coconut oil 
2 Tbsp maple syrup 
1 cup oat flour
1/2 cup Planet Protein Vanilla Magic 
1/2 cup unsweetened shredded coconut
1 cup oats
1 tsp Cinnamon
1/2 tsp baking soda
1 flax egg
1 cup unsweetened almond milk (a few splashes more if mix is too dry)
DIRECTIONS
Preheat oven at 350 degrees F and grease your muffin tin or use muffin liners.

In a small sauce pan, heat butter over medium low heat. Then add chopped rhubarb, stevia and maple syrup.

Let that simmer until rhubarb starts to soften. Then add most of the chopped mango (leaving a few wedges for toppings if desired.) Simmer for 2 minutes until mangos are just heated and remove from heat.

In a large mixing bowl, combine the other muffin ingredients. 

Add in 1/2 of your rhubarb mix to the muffin mixture. Mix until well combined.

Pour your batter into the muffin tins filling half way. Then use the rest of your rhubarb & mango mix to fill the middle of your soon to be muffins. Then pour remainder of batter to close off the filling on your muffins.

Top with additional sliced mangos left behind and extra coconut shreds if desired.

Bake at 350 degrees F for about 25 minutes or until the top is golden.