Passionfruit Protein Smoothie Bowl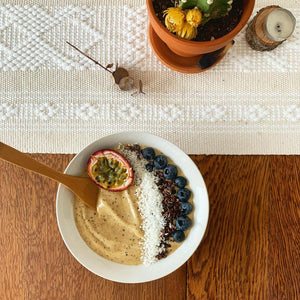 Passionfruit Protein Smoothie Bowl
 5 min 
 Vanilla Magic, Planet Protein
Get tropical with this passionfruit blast of a smoothie bowl! It's tangy and delicious. With a serving of Vanilla Magic, it offers an extra boost of protein and the perfect amount of sweetness to your tastebuds. 
INGREDIENTS 
Frozen bananas
DIRECTIONS
In a high-speed blender, combine all ingredients until smooth. Pour into glass. 
Top with fresh fruits and superfoods. Enjoy!
For more recipes, nutrition tips and plant-based lifestyle hacks, check out our Ultimate Plant-Based Starter Kit (it's free!).