Peaches and Green Smoothie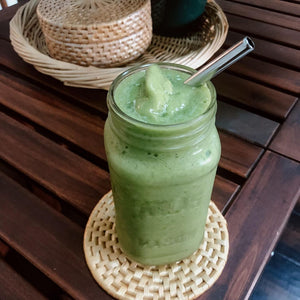 Peaches and Green Smoothie
 5 min 
 Vanilla Magic, Planet Protein
Green is in the air!💚 You would not even know this smoothie is packed with kale because it tastes like peaches.🍑 It will keep you feeling fueled all day!
INGREDIENTS 
Fresh and frozen peaches
Frozen banana
Fresh kale
1 serving 
Vanilla Magic Protein
Splash of plant-based milk
DIRECTIONS
In a high-speed blender, combine all ingredients until smooth. Pour into a glass. 
Enjoy!
For more recipes, nutrition tips and plant-based lifestyle hacks, check out our Ultimate Plant-Based Starter Kit (it's free!).