Planet Protein Chocolate Parfait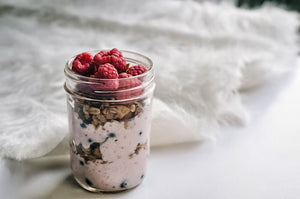 Planet Protein Chocolate Parfait
 10 Minutes
 Chocolate Magic, Planet Protein
Ingredients: 
1 scoop Chocolate Magic

1 container dairy-free yogurt

1 cup fresh berries

½ cup granola
Directions
1. In small bowl, mix Chocolate Magic and dairy-free yogurt until combined.
2. Spoon some of the yogurt mixture into jar. Top with fruit, then a layer of granola. Repeat with remaining ingredients, continuing to alternate layers.
3. Top with extra granola or fruit and/or shredded coconut, chia seeds or a drizzle of nut butter.