Protein Dinner Rolls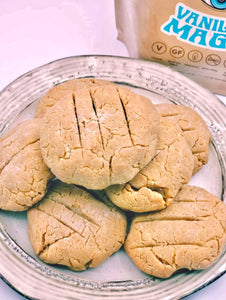 Protein Dinner Rolls
 1 hour
 Vanilla Magic, Planet Protein
Serve them hot, serve them with veggies on top, serve them to dip in hot soup. These Protein Dinner Rolls go with everything, and they are gluten-free!
INGREDIENTS 
2 cups Gf 1:1 baking flour
2 scoops Vanilla Magic
1 6.5oz vegan cream cheese of choice
3-5 Tbsp. Vegan ghee, + 2 tbsp. for coating rolls, Nutiva
1 Tbsp. onion powder
1 Tbsp. garlic powder
Pinch of Himalayan salt
1 cup cold water, use more if desired
DIRECTIONS
Prepare a lined baking sheet and pre-heat your oven to 350° F.
In a mixing bowl, gather all your Ingredients gluten-free flour, Vanilla Magic, sunflower cream cheese, vegan ghee, granulated onion, garlic powder, Himalayan salt. Mix thoroughly, then slowly add in your water as needed. You can also add in more vegan ghee to add in more flavor if you like. Mix until you reach a dough-like consistency.
Roll into a giant ball, cover, and let rest for 10 minutes in the refrigerator.
Take your dough out of the fridge and roll it into dinner roll sizes. Coat with vegan ghee on the tops. Use a pizza cutter to create three slits on the top part of the roll.
Place your prepared rolls onto a lined baking sheet and bake for 45 minutes. Let cool and Enjoy!