Protein Hot Chocolate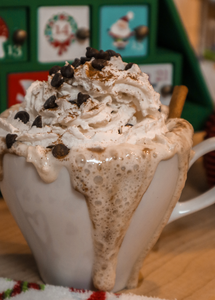 Protein Hot Chocolate
 5 min 
 Vanilla Magic, Planet Protein
Keep calm, get cozy, and get your hot chocolate on. Swap out choco powder with cacao powder for a healthier version of this sweet drink. Also, feel free to interchange Vanilla and Chocolate Magic for a different protein twist. Both are magically delicious. 
INGREDIENTS 
1 cup plant-based milk
1 Tbsp. Vanilla or Chocolate Magic
1 Tbsp. unsweetened cacao powder
Dairy-free whipped cream
Cinnamon
DIRECTIONS
In a pot, add plant-based milk, protein powder, and cacao powder.

Heat at medium temperature on the stove. Stir frequently until it gets to the temperature of your liking.

Top it off with some dairy-free whipped cream, cinnamon, and vegan chocolate chips.

YUM!
For more recipes, nutrition tips and plant-based lifestyle hacks, check out our Ultimate Plant-Based Starter Kit (it's free!).