Pumpkin Magic Bars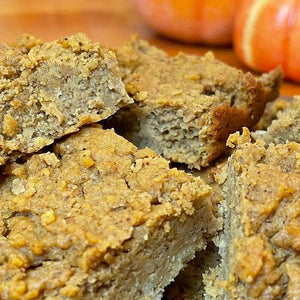 Pumpkin Magic Bars
 1 hour 
 Vanilla Magic, Planet Protein
Pumpkin spice and everything nice?🎃 You guessed it! This recipe tastes like fall.🍂 Add some pumpkin and Vanilla Magic, BOOM💥 You got yourself one tasty treat. Pro tip: These are delicate out of the oven; we recommend letting them cool for 20 minutes until cutting. Once they're in the fridge, they firm up much more.
INGREDIENTS
15 oz. can chickpeas (drained, rinsed & pat dry)
1/4 cup almond butter
1/4 cup pumpkin puree
1/2 cup maple syrup
1 serving Planet Protein Vanilla Magic
1/2 tsp. pumpkin pie spice
1/4 tsp. baking soda
1/4 tsp. baking powder
Pinch of salt
DIRECTIONS 
Rinse and pat dry chickpeas.
In a bowl mix 1 serving of Vanilla Magic with a bit of water until you have a paste consistency.
In food processor add all of the ingredients. 

Blend the ingredients until well combined. Note: you may need to push down the sides several times to make sure the blade catches everything.

Once well combined, scoop mixture into your greased pan (I used 8x8 pan), and bake at 350 degrees°F for roughly 50 minutes.

Cool for 20 minutes until cutting.