Pumpkin Maple Glazed Protein Doughnuts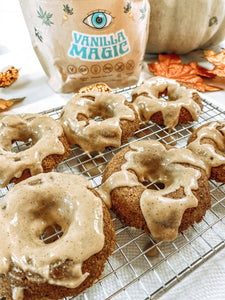 Pumpkin Maple Glazed Protein Doughnuts
 20 - 30 min 
 Vanilla Magic, Planet Protein
These Spice Up September-inspired doughnuts are A-GLAZING!! With extra maple-glazed, of course.🤤 Fall spices, pumpkin, maple, it's got all the fall vibes! Pop em in the oven and glaze them. It's that easy. 
INGREDIENTS 
Doughnuts 
1/2 cup coconut sugar
3 Tbsp. coconut flour
1/2 tsp. baking powder
1/4 tsp. baking soda
1/2 tsp. cinnamon
1/4 tsp. nutmeg
1/8 tsp. ground cloves
1/4 tsp. ginger
1/4 tsp. salt
1/2 cup Planet Protein Vanilla Magic
1/4 cup pumpkin
1 Tbsp coconut oil
2 Flex eggs
Maple Glaze 
1/4 cup Planet Protein Vanilla Magic
3 Tbsp. coconut sugar
2 Tbsp. natural maple syrup
1Tbsp. plant-based milk
1/2 tsp. maple extract
DIRECTIONS 
1. Pre-heat oven to 350 degrees F.
2. In a bowl mix together doughnut ingredients.
3. Spray doughnut pan and place in the oven for 8-12 min.
4. While doughnuts are cooling, mix together ingredients for maple glaze.
5. Drizzle and enjoy!