Pumpkin Parfaits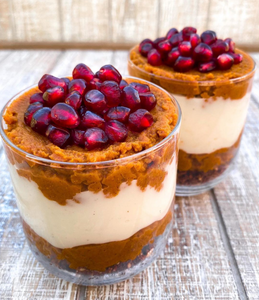 Pumpkin Parfaits
 10 min 
 Chocolate Magic, Planet Protein
Spice up your day with these Pumpkin Parfaits! It's a fall fix you don't want to miss. They make a great breakfast, snack, or dessert!
INGREDIENTS 
Base
2 scoops Chocolate Magic
1 cup dry oats
1 Tbsp. cocoa powder
2 Tbsp. coconut oil
Pumpkin layer
2 cups pumpkin purée
2
T
bsp.
pure maple syrup
2
T
bsp.
almond butter
1 Tbsp. cinnamon
1/2
T
bsp.
 pumpkin pie spice
Yogurt layer
1/2 cup dairy-free yogurt
DIRECTIONS
For the base: in a blender, add dry ingredients. Pour into a bowl. 
Add in melted coconut oil and mix evenly. 
Divide evenly among 3-4 glasses or jars.
For the pumpkin layer: in a blender, add ingredients and mix well. 
Then layer on top of chocolate crust. Divide evenly among jars.
Top with your favorite seasonal fruit, such as pomegranate, banana, or persimmon-enjoy!
For more recipes, nutrition tips and plant-based lifestyle hacks, check out our Ultimate Plant-Based Starter Kit (it's free!).