Pumpkin Pie Protein Mocktail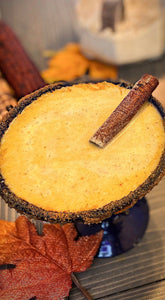 Pumpkin Pie Protein Mocktail
 5 min 
 Vanilla Magic, Planet Protein
This Pumpkin Pie Protein Mocktail is sweet and creamy. With cloves, cinnamon, and nutmeg, it gives you all the flavors of a real pumpkin pie.🎃 The Vanilla Magic Protein gives it just the right amount of sweetness!  Perfect to make when you have family and guests over for the holidays. 
INGREDIENTS 
1/4 tsp. cinnamon
3 Tbsp. organic coconut milk
2 Tbsp. pumpkin puree
1 tsp. Vanilla Magic
2 Tbsp. maple syrup
Pinch of nutmeg
Pinch of cloves
DIRECTIONS
In a shaker cup, add together all ingredients. Add a handful of ice.
Shake!
Strain and pour into fun glass.
Top with cinnamon sticks and coconut sugar garnish for the rim.
For more recipes, nutrition tips and plant-based lifestyle hacks, check out our Ultimate Plant-Based Starter Kit (it's free!).