Pumpkin Spice Magic Oat Bars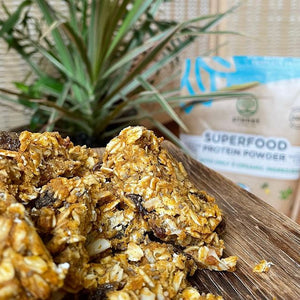 Pumpkin Spice Magic Oat Bars
 10 min 
 Vanilla Magic, Planet Protein
These treats are perfect for #NoBakeNovember! During the holidays, you are already baking enough. No oven is necessary here. Just add these clean ingredients in a food processor and pop them in the fridge. Then they are ready to share with friends and family!  
INGREDIENTS 
1 1/2 cups oats
1 serving Vanilla Magic
1 tsp. pumpkin spice
Pinch of salt
1 Tbsp. chia seeds
1/4 cup coconut
1/4 cup maple syrup
1/2 cup pumpkin purée
1 tsp. vanilla extract
2 Tbsp. raisins
DIRECTIONS
In a food processor, add all of your ingredients, except the raisins. 

Gently pulse until combined. Then fold in the raisins. 

In a 9x9 pan, pack your filling. 

Let these sit in the fridge for 2 hours or in the freezer for 1 hour. 

Enjoy them yourself, share with a friend, or bring them to a holiday party!
For more recipes, nutrition tips and plant-based lifestyle hacks, check out our Ultimate Plant-Based Starter Kit (it's free!).