Pumpkin Spice Magic Waffles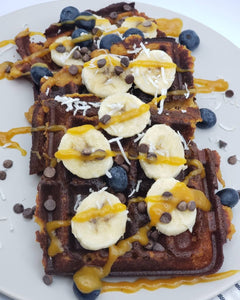 Pumpkin Spice Magic Waffles
 15 min or Overnight 
 Vanilla Magic, Planet Protein
Brighten your fall morning with these magical, no-cook pumpkin-licious waffles! Prep them the night before so they're ready to go when you're running out the door or cook them for a quick breakfast with the fam. This recipe also comes with directions for a seasonal homemade syrup made with agave, pumpkin puree and (of course) Vanilla Magic. Best part? They're vegan-friendly and gluten-free! Now that's something to get pumped-kin about. 🎃
INGREDIENTS 
Waffles 
1 cup blanched almond flour
1 cup Vanilla Magic
6 Tbsp. arrowroot starch
2 Tbsp. olive oil
4 Tbsp. agave
1 ½ Cup water
2 Tsp. vanilla extract
½ Can pumpkin puree
1-2 tbsp. pumpkin spice seasoning
Pinch Himalayan salt
Syrup 
1 cup agave
2 scoops Vanilla Magic, add more if desired
2 Tbsp. pumpkin puree
1 Tbsp. pumpkin spice seasoning
½ cup coconut melted oil
DIRECTIONS 
In mixing bowl, combine almond flour, arrowroot starch and Vanilla Magic protein. Add olive oil, agave, vanilla 

extract, pumpkin puree, pumpkin spice seasoning, Himalayan salt and water. 

Stir to combine, until mixture reaches batter-like consistency.

Use plastic wrap to cover top and bottom of waffle maker or better yet use a mini waffle maker. Note: Make sure waffle maker is turned off. 
Roll batter into a ball and transfer to covered waffle maker to make an imprint.
Cook in waffle maker for five minutes... or if dehydrating slowly remove from plastic wrap and transfer onto a lined dehydrator tray and dehydrate for 8+ hours at 115 degrees F° rotating half way.
Meanwhile, prepare syrup. In blender, combine Vanilla Magic and agave. Add coconut oil, pumpkin puree and pumpkin spice seasoning. Continue blending until smooth.
Pour into container and refrigerate until ready to use.
Use warm water to soften syrup and drizzle onto waffles in the morning.