Pumpkin Vanilla Magic Spice Balls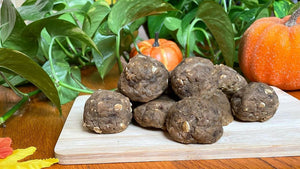 Pumpkin Vanilla Magic Spice Balls
 20 min 
 Vanilla Magic, Planet Protein

If you're meal prepping, you're going to want to make these for your week!😏 🍂 They are quick, easy, and filled with protein that will give you energy for your busy schedule. If you are not seeking a vegan option, you can use egg whites as a substitute for Chia eggs.
INGREDIENTS 
1 banana
1/2 cup 100% pumpkin purée
1 Tbsp maple syrup
1/4 cup almond milk
1 chia egg
1/2 cup oats
1/4 cup + 2 Tbsp (45 grams) coconut flour
1 1/2 serving (50 grams) Vanilla Magic
1/2 tsp pumpkin spice
Pinch of salt
DIRECTIONS
Preheat oven to 350°F.
In a bowl, mix your Tbsp of chia seeds with 1 1/2 Tbsp water and let sit for five minutes to allow to thicken.
In another bowl, combine dry ingredients. Mix each before combining in one bowl.
Roll your mixture into tiny balls and place on greased pan.
Bake for 8-10 minutes and let cool.
For more recipes, nutrition tips and plant-based lifestyle hacks, check out our Ultimate Plant-Based Starter Kit (it's free!).