Raw Vegan Mango Cheesecake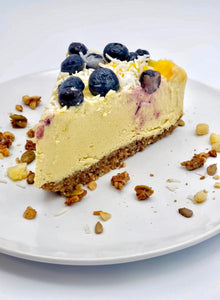 Raw Vegan Mango Cheesecake
 Overnight 9 hours
 Vanilla Magic, Planet Protein
Cheesecake without the cheese? Yes, please! It's creamy, it's delicious, and it's all plant-based. Plus, it has a scoop of Planet Proteins Vanilla Magic, adding flavor and fuel! 
INGREDIENTS
Crust
2 cups walnuts
1 cup dates, pitted
Pinch Himalayan salt
Cheesecake
4 cups cashews, soaked 4-6 hours or in boiling water for 10 min.
2½ cups fresh mango, cubed
1 can coconut cream
½ cup coconut oil, melted
1-2 lemons, plus more if desired, juiced
½ cup agave or maple syrup
1 Tbsp. vanilla extract
2 scoops Vanilla Magic
Pinch Himalayan salt
DIRECTIONS 
In a 9-inch springform pan line with parchment paper.

In food processor, pulse walnuts and dates until crumbly. Add salt. Pulse until 

combined and sticky.

Press mixture evenly into lined pan and transfer to freezer.

Use mesh strainer to drain and rinse cashews. Transfer to blender. Add remaining ingredients and 

blend until smooth. 

Remove crust from freezer and pour mixture on top.

Place in freezer for 8 hours or overnight.

Thaw 20-30 minutes before serving and add toppings.
For more recipes, nutrition tips and plant-based lifestyle hacks, check out our Ultimate Plant-Based Starter Kit (it's free!).