Star Spangled Magic Protein Donuts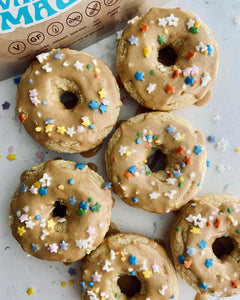 Star Spangled Magic Protein Donuts
 20 Minutes
Vanilla Magic, Donuts, Planet Protein
Guilt-free donuts for breakfast? Sign us up! Makes sparks fly this Independence Day with this fun, good-for-you recipe! 🥥🍩💪🏼
Ingredients
TOPPINGS
Nut Butter
Dye-free sprinkles
Directions
1. Preheat oven to 350 degrees F. Coat donut pan with coconut oil.
2. Combine all ingredients in food processor until smooth.
3. Pour/spread batter into donut pan molds.
4. Bake for 12-13 minutes or until inserted toothpick comes out clean. Do not overbake. Cool for 5 minutes. Transfer donuts to flat surface.
5. Spread nut butter on top and decorate with dye-free sprinkles!