Cookie Cookie Nice Cream Bowl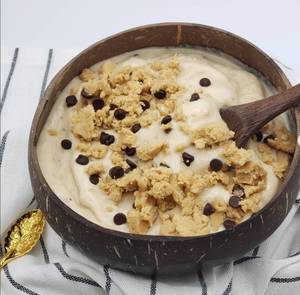 Cookie Cookie Nice Cream Bowl
 10 min 
 Chocolate Magic, Planet Protein, Vanilla
Something sweet, something nice, cookie cookie oh....
INGREDIENTS 
2-3 frozen bananas

3 dates, pitted

1 scoop pb or cashew butter, add in more if desired

¼ cups plant mylk

2-4 Magic Cookie Dough Bites

BLEND in your Vitamix, then add in Magic Cookie Dough bites into your blend.

POUR into a Coconut bowl or bowl of choice.

ADD in Smashed magic cookie dough bites for toppings.

Magic Cookie Dough Bites

½ cup almond flour

½ cup Vanilla Magic

3 Tbsp. coconut oil, melted

2 tsp. vanilla extract

3 Tbsp. agave or maple syrup

Pinch Himalayan salt

2 Tbsp. Coconut flour, optional (New add on)

⅓ cup dark chocolate chips or desired add-in, optional
DIRECTIONS
In glass bowl, mix all ingredients (except for chocolate chips) until dough-like consistency forms.

Fold in 

chocolate chips or desired add in.

Roll into bite-size balls.

Transfer to jar or keep in glass bowl and refrigerate for 1-2 hours for best results.





These magic cookie dough bites can be referred to from one of my recipes from Planet Protein's ebook released some months back. Only added difference is the optional add in coconut flour. :)

 
For more recipes, nutrition tips and plant-based lifestyle hacks, check out our Ultimate Plant-Based Starter Kit (it's free!).