Strawberry Shortcake Protein Oats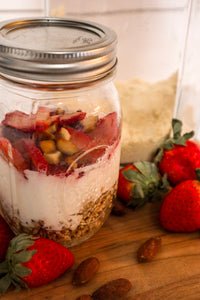 Strawberry Shortcake Protein Oats
 Overnight 
 Vanilla Magic, Planet Protein
Creamy and dreamy strawberry shortcake protein oats - you know you want to try them! Make them the night before to have for breakfast or dessert- you decide!😉
INGREDIENTS 
1/2 cup steel-cut or rolled oats
1 Tbsp. flaxseed
2 Tbsp. plant-based milk
1 tsp. vanilla extract
1 tsp. Vanilla Magic Protein
1/2 cup vanilla dairy-free yogurt
Strawberries
Slivered almonds
DIRECTIONS
In a bowl, mix together oats, flaxseed, plant-based milk, vanilla extract, and Vanilla Magic.
Transfer to a mason jar or container.
Then add dairy-free yogurt.
Refrigerate for 4 hours or overnight!
Top with strawberries and slivered almonds.
YUM!
For more recipes, nutrition tips and plant-based lifestyle hacks, check out our Ultimate Plant-Based Starter Kit (it's free!).