Strawberry Vanilla Magic Muffins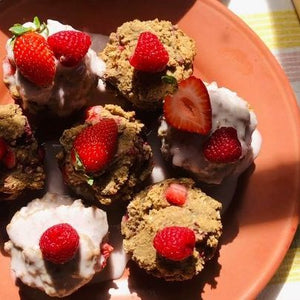 Strawberry Vanilla Magic Muffins
 25 minutes
Vanilla Magic, Muffics, Planet Protein
Here are some Vegan + GF Strawberry Vanilla Magic Muffins perfect for mothers day and national strawberry month 🍓💗🥰
Ingredients
2 3/4 c oats flour
1 tsp baking soda
1 tsp baking powder
1/4 c flax seeds
1/3 c vanilla magic protein
1- 1 1/2 c non dairy milk
3 semi ripe bananas
3 soaked dates
1/2 c chopped raspberries and strawberries
2 tsb lemon juice
Instructions: Muffins
Preheat oven to 350 degrees Fahrenheit.

Mix dry ingredients together.

Add wet ingredients to blender using 1 c of milk. Blend until smooth.

Add wet and dry together and mix well. If batter is to dry add remaining 1/2 c of milk.

Fold in chopped berries to batter.

Add batter to well greased tin pan.

Bake for 25 minutes.

Makes 12 muffins!
Instructions: Whipped Cream
1 can chilled overnight coconut cream

3 tbl condensed coconut milk

3/4 c mixed berries

Mix with electric mixer for 3 min until whipped.

Chill for one hour