The Split "Cheesecake"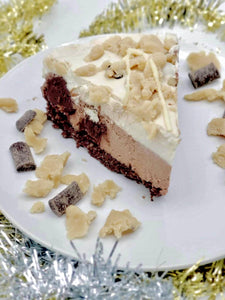 The Split "Cheesecake"
 Overnight 9 hours
 Vanilla Magic, Planet Protein
Why choose between a cookie or cheesecake when you can have BOTH. The Split "Cheesecake" is the best of both worlds.🥳 And don't let the name cheesecake fool you. It is a lot healthier than you might think. Check out these clean ingredients below!🌱
INGREDIENTS
Crust
2 cups walnuts
1 cup dates, pitted
¼ cup cocoa powder
Pinch Himalayan salt
Cheesecake
4 cups cashews, soaked 4-6 hours or in boiling water for 10 min.
1 can coconut cream
½ cup coconut oil, melted
1-2 lemons, plus more if desired, juiced
½ cup agave or maple syrup
1 tbsp. vanilla extract
Pinch Himalayan salt
¼ cup cocoa powder
Cookie dough bites, homemade with PP
Fudge bites, homemade with PP
DIRECTIONS 
Line 9-in. springform pan with parchment paper.
In a food processor, pulse walnuts, cocoa powder, and dates until crumbly. Add salt. Pulse until combined and sticky.
Then, evenly press the mixture into a lined springform pan. Transfer to freezer.
Meanwhile, use a mesh strainer to drain and rinse cashews. Transfer to a blender. Add remaining ingredients and blend until smooth. Remove half of the mixture into a bowl. Then add in cocoa powder & blend for a chocolate mixture.
Remove crust from freezer, and pour the chocolate mixture on top. Then add in fudge bites & freeze.
Repeat step for plain mixture adding in cookie dough bites. Add additional toppings, then freeze for 8 hours or overnight.
Thaw 20-30 minutes before serving.
For more recipes, nutrition tips and plant-based lifestyle hacks, check out our Ultimate Plant-Based Starter Kit (it's free!).