Tropical Magic Bowl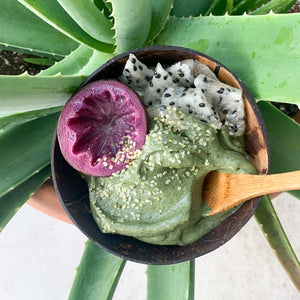 Tropical Magic Bowl
 5 min 
 Vanilla Magic, Planet Protein
It's time to get tropical with this smoothie bowl!🌴 The best part about this bowl...it's filled with kale. This leafy green is very high in nutrients yet low in calories, making it one of the most nutrient-dense foods on the planet. 🌎 And you can't even taste it in this bowl. SO DELISH!
INGREDIENTS 
Frozen bananas
Kale
Spirulina
Turmeric
Cacao
Hemp seeds
Cinnamon
Vanilla Magic
DIRECTIONS
In a high-speed blender, combine all ingredients until smooth. Pour into bowl. 
Top with fun fruits and hemp seeds!! ENJOY. 
For more recipes, nutrition tips and plant-based lifestyle hacks, check out our Ultimate Plant-Based Starter Kit (it's free!).