Tropical Paradise Smoothie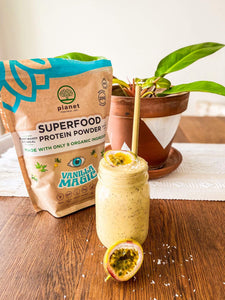 Tropical Paradise Smoothie
 10 Minutes
Vanilla Magic, Smoothie, Planet Protein
This frozen dream in a glass will for sure fuel your bod on hot summer days. Packed with protein, juicy fruits and nutritional superfoods, each sip is more refreshing than the last. The best part about this recipe is that you can easily modify it to fit your personal preferences. Instead of water, pour in fresh coconut water or homemade coconut milk! Can't find passionfruit? No problem – simply add more mango. Cheers to you!
Ingredients: 
3 frozen bananas
1 scoop

Vanilla Magic

4 passionfruit, pulp & seeds
½ mango
¼ cup shredded coconut
1 Tbsp. hemp seeds
¼ tsp. cinnamon
¼ tsp. turmeric
1-1/2 cups water
Directions
1. In blender, combine all ingredients until smooth and creamy.
2. Pour into glass and serve.