Vanilla Cherry Protein Pop Tarts with Vanilla Protein Frosting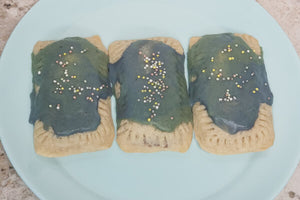 Vanilla Cherry Protein Pop Tarts with Vanilla Protein Frosting
 20 minutes
Vanilla Magic, Baked Good, Planet Protein
Ingredients: Crust
1 cup almond flour
1/2 cup tapioca flour
1-2 scoops of vanilla magic
4-6 tbsp almond mylk
4-6 tbsp coconut oil, melted
Ingredients: Toppings
Use any choice of preserves, cherry, raspberry, homemade, etc
Instructions: Frosting
3 tsp vanilla magic
2-3 tbsp water
1-2 tsp coconut oil, melted
1-2 tsp vanilla extract
1-2 tbsp monk fruit sweetener
1/8 tsp spirulina, blue majik (blue spirulina) or red beet powder, for food coloring
Directions
Preheat oven to 350° and prepare a baking sheet with parchment paper.
In a glass bowl, mix together almond flour, tapioca flour, vanilla magic, coconut oil, melted, and almond mylk. Mix until a dough forms. Set aside.
Roll out dough, leaving some thickness and cut into desired square sizes and place on prepared baking sheet.
Add 1 tbsp of cherry perserve or preserve of choice unless homemade onto the middle of the bottom square, then place other square on top, pressing down gently using a fork to crimp the edges together, poking a few holes on top so heat can escape. Bake for 10-12 mins.
Once pop tarts are cooled down, mix frosting ingredients together and glaze pop tarts. Don't forget the sprinkles!
For a dehydrated version use the same steps except using a dehydrator sheet. Set to 120° for 10-12 hours.
Notes: Can be stored in a glass container in fridge for up to 3 days. Reheat in a toaster oven or dehydrator.