White Chocolate Cranberry Balls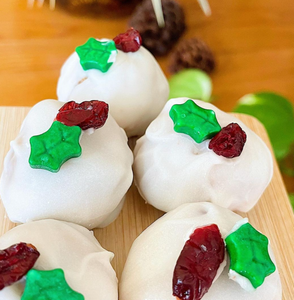 White Chocolate Cranberry Balls
 15 min 
 Vanilla Magic, Planet Protein
Instead of cutting out all sweets, find healthier options that can help curb your sweet tooth. These White Chocolate Cranberry Balls are sweetened with maple syrup and Vanilla Magic to give you the perfect balance of a tasty treat. And they are so cute!😊
INGREDIENTS 
1 cup rolled oats
1/3 cup Vanilla Magic
1/4 cup maple syrup
1/4 cup almond butter
1/4 cup dried cranberries
splash of water
3/4 cup vegan white chocolate chips
DIRECTIONS
In a food processor, blend together all ingredients until well combined *except for the white chocolate chips.
Scoop out a teaspoon of the mixture and roll into little balls, then store in the fridge to chill.
In the meantime, slowly melt your white chocolate chips either by microwave or stovetop.
Then, cover and dip your balls into the melted white chocolate.
Place back in the fridge to harden, then ENJOY!
For more recipes, nutrition tips and plant-based lifestyle hacks, check out our Ultimate Plant-Based Starter Kit (it's free!).