10 Sustainable Christmas Decorations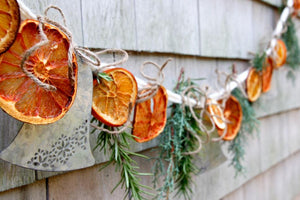 10 Sustainable Christmas Decorations
With Christmas scarcely a month away, the holiday season is in full swing and the general mood is both mellow and festive.
Christmas is a time for family and celebration where we come together to exchange gifts and make merry. Houses are decorated in true Christmas fashion, with the tree taking centre stage at least two weeks before the festival.
But while Christmas is a cause for celebration, in today's world of growing waste, it's also a time to be mindful of our consumption habits. Gifts are manufactured, packaged, and shipped out on a massive scale, with plastic wrapping being generated at an alarming rate. To cut down on this, we need to consider how to procure more sustainable gifts for our loved ones.
Aside from gifts, Christmas decorations are another huge source of waste, and focusing on a green holiday means examining our regular Christmas decorations and replacing them with sustainable alternatives. Here are a few to get you started.
1. Live Tree
If you can't bear to have Christmas without a real tree, consider getting a smaller, potted fern which can be replanted in your backyard once the festivities have concluded.
Source: tulsaworld.com
Ferns are chopped at an alarming rate in the days leading up to Christmas, and you can minimize the damage and actually help the environment by purchasing a grown tree and keeping it alive after.
In fact, if you've got space to replant, a live tree is a far greener option than the artificial ferns sold on Christmas. If you want a fake tree, hit up a thrift store or use the second-hand app, Offer Up!
2. Earthy Decorations
Christmas tree hangings usually tend to be a little 'plasticky' or made from harmful thermocol, covered in foil and glitter. None of these substances are biodegradable and can even be toxic to the soil once they've been disposed of.
So this year, why not ditch the toxicity and go for a more natural look. Here are a few options.
Seashells - Take a trip to the beach and you'll find a variety of shells in different colors, sizes, and textures and they can make your tree really stand out.
Driftwood - Extremely easy to procure and can be cut, glued, and adjusted to a variety of different shapes and sizes.
Source: youtube.com
3. Recycled Wreath
Instead of buying those store-made wreaths, you can make your own sustainable version with the help of old Christmas greeting cards.
Source: in.pinterest.com
The best part is that this eco-friendly decor idea can be tweaked based on the color and sizes of the greeting cards you use.
4. Shinier Baubles
Christmas tree baubles tend to lose their color when stored for a long time, and it's one of the main reasons that people purchase new decorations every season.
But there's a simple way to reinvent these baubles, which is both fun and a lot more sustainable than buying new plastic ones.
If you've got a collection of old CDs, take one and cut it into small, random-sized pieces. Stick these fragments onto the baubles for a shiny new tree decoration.
5. Recycled Paper Decor
Recycled-paper decorations like lanterns and balls are easy enough to make and can even be bought online if necessary. They're perfect for display around the house and can be used as decorations on your Christmas tree.
Source: etsy.com
To make them, you can use old newspapers and paint them over, or you can even get creative and cut up pages from old storybooks to create something truly different.
6. Green Wrapping Paper
Gift-giving is one of the main tenets of Christmas, and more often than not, gifts are wrapped in paper that's made using foil, glitter, and plastic, all of which is unsustainable and harmful to the environment in the long run.
So when you're giving gifts make sure to wrap them in recyclable paper; one that's both biodegradable and harmless to the environment.
7. Use LEDs
Rather than using incandescent lights, which consume a lot of electricity, consider getting a set of LED lights to brighten up your home this Christmas.
Source: electricityplans.com
You can create a variety of different patterns using LED lights and they're a lot more adjustable than the regular ones. Most importantly, however, they consume nearly 80% less energy than the traditional twinkling lights, making them a lighter load on both the environment and your holiday savings.
8. Plants
Provided by Mother Earth herself, plants make for the most charming, colorful, and fragrant holiday decorations. You can put them in cups of water and place them throughout your house for a more natural look.
Source: mymodernmet.com
Alternatively, the plants can also be interspersed with the other decorations on your Christmas tree.
9. Family Photos
If you've got any polaroid photos lying about the house, why not clip them on to your Christmas tree? Aside from giving your tree a more authentic look and a rustic feel, it's a great way to conjure up happy memories and relive them by making them a part of this festive season.
Source: cascadesflufftuff.com
10. Citrus Garlands
When slices of oranges or lemons are dried and dehydrated in an oven, they take on a glassy look and their color tends to intensify.
Source: hgtv.com
Once you've taken the slices out of the oven and cooled them, string them together in a garland with a length of twine. This can be hung across a few branches of the Christmas tree or as a wreath above a doorway or fireplace.
Have A Truly Green Christmas!
While Christmas has always been a joyous occasion, celebrated with much pomp and splendor across generations, it's also a time when waste production is at an all-time high.
Apart from buying sustainable Christmas gifts, being more conscious with our choices of decor can really help to lighten the load on the environment.
So consider accommodating more sustainable, eco-friendly Christmas decorations this holiday season and enjoy your holiday wholeheartedly and with a much clearer conscience.
Have a blessed Christmas!