10 Ways to Celebrate Father's Day #HolisticHolidayStyle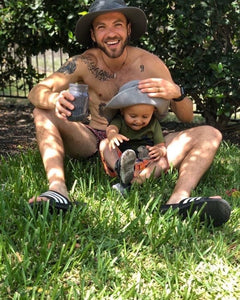 10 Ways to Celebrate Father's Day #HolisticHolidayStyle
Because your dad, grandpa, or father figure could use the love, now more than ever.

💚
1. Serve a healthy brunch! It can be undercover healthy, too.
😉 Check out these epic recipes that will make everyone happy.
2. Plan a family game night. One of our favorite games is the IF game, which requires a book from the "If..." series. Do not worry, you can find the questions on Google! 🎲
3. Organize a kombucha taste testing! Hit up your local health food store and get a bunch of kombuchas to try. You can even juice some fruit like pineapple & apple to make healthy mixed drinks! Kombucha cheers.
🥂
4. Host an outdoor movie. Shine a projector against a blank wall and turn on dad's favorite movie. You can even put on replays of his favorite sports games!
🎥
5. Make some sweets! Remember, desserts do not have to be full of BS ingredients to be great! Check out our Chocolate Magic Snickers, Almond Joys, and Reese's for holistic options.
🍫
6. Learn something new together. Check out Groupon for acting classes, snorkeling, yoga, master gardening courses, ceramics, etc.
🥕
7. Netflix night! Have a comedy movie night or celebrate by expanding the mind and watching documentaries.
🎬
8. Make a bucket list. Or even make a dream board!
📘
9. Journal. meditate, and do a light yoga flow. Relieve dad's stress by helping him dive inward. You can even show him how to "earth" in the backyard!
👣
10. Backyard camping! The camp parks might still be closed, but if you have a backyard, set up that tent! Bring on the campfires, ghost stories, and earthing! Ps- there are quite a few campsites opening up now, so check those out as well!
⛺
Shout out to all the magical dad's out there. We love you!