14 Things You Didn't Know Were Vegan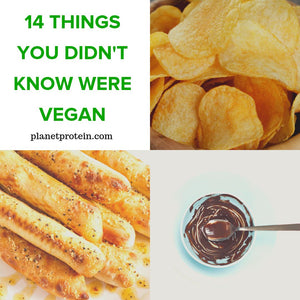 14 Things You Didn't Know Were Vegan
The truth is, going vegan has truly never been easier. With vegan substitutes for just about anything, it's pretty much possible to re-invent any "traditional" meal as a vegan one. This being said, there's also a few things that make it even easier, because they're already vegan. If you're looking to make the switch to a vegan diet or have already been at this awhile and are just looking to expand your options, you'll be thrilled to find out that all of the following items are vegan. 
1. Thin mints
All we can say is : YES. 
2. Cinnamon and Chocolate Teddy Grams
Stick with the cinnamon or chocolate flavors and you'll have yourself a delicious little vegan snack!  
3. Classic Lays Potato Chips
Get your crunch on. 
4. 

Duncan Hines Creamy Home-Style Frosting

(Home-style butter cream, caramel, classic chocolate, vanilla, coconut pecan, dark chocolate fudge, lemon supreme, strawberry cream) Because you'll need something to frost your vegan cake with. 
5. Smarties 
Enjoy one of America's favorite novelty candies worry free : they're vegan! 
6. Olive Garden Bread Sticks
The best things in life are FREE and VEGAN. 
7. Hershey's Chocolate Syrup
Satisfy that sweet tooth.  
8. Red Bull
It'll give you wings - vegan and gluten free wings. 
9. LaCroix
All LaCroix flavors are vegan, gluten free and kosher. 
10. Ritz Crackers
Ritz Original, Ritz Roasted Vegetable, and even Ritz Bacon Crackers are all vegan.
11. Papa Johns Garlic Dip
Compliment your veggie pizza with your vegan garlic dip - guilt free. 
12. Duncan Hines Baking Mix
Add egg and milk replacements and BAM! Vegan Cake.  
13. Sriracha Sauce (Sky Valley Foods) 
For those of us who like to add a little extra heat, we can do it, cruelty free. 
14. Fruit Roll Ups
Your favorite childhood snack has always been : vegan.